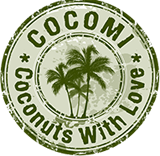 COCOMI

Bio Organic
hand harvested,
packed at source,
from our farms with love

For over a century our family has lovingly tendered to our coconut farms producing the finest coconuts. Times have changed, our practices have not. We bring you the best organic coconut products in its true freshness and purity, hand harvested, packed at source, from our farms with love.
- The Rajiyahs
Our Story
Overview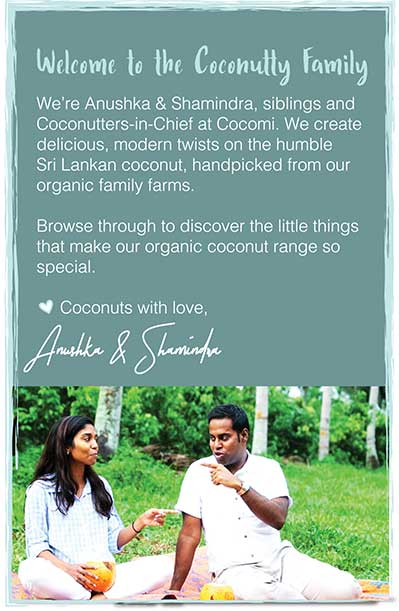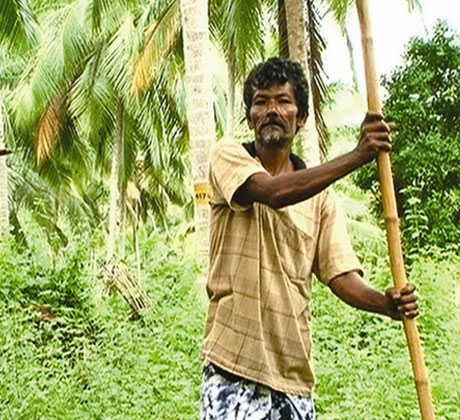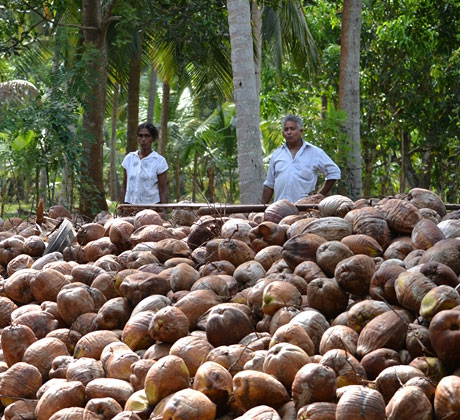 We, the Rajiyahs love this little Island of Sri Lanka and we love our coconuts even more! For generations we have lovingly tendered to our coconut farms, producing some of the finest coconuts there is. Though times have changed, we have not, our love for coconuts still remains the same and we bring to you the finest organic certified coconut products there is, hand harvested, packed at source and from our farms with all the love.

Yet, we couldn't have done this alone, our business philosophy has always revolved around sustainability and accountability – towards our extended family of over 700 employees, numerous farmer families, suppliers and clientele from around the world. Today we are an organization catering towards the modern age, yet not forgetting the principles which we are built upon and the cultures and traditions which are an integral part of Sri Lanka; thus bringing you an exciting range of organic coconut products made from the freshest, purest and hand harvested coconuts with love.
Our Organic Farms & Factories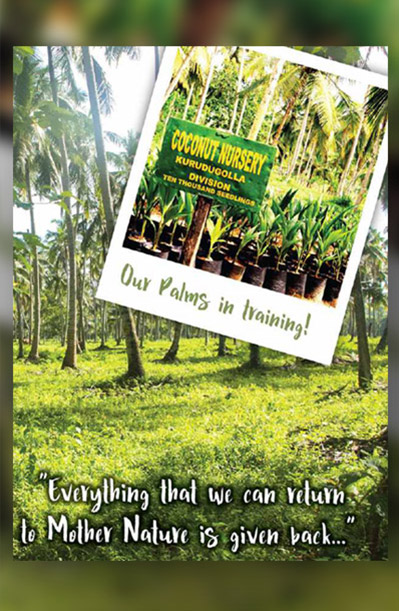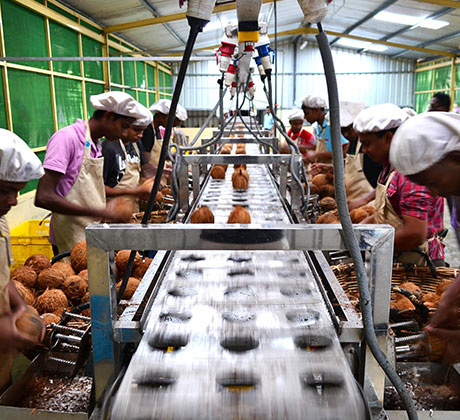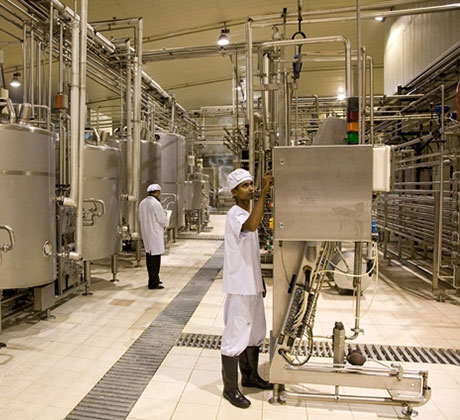 Our farms are in the heart of the famed coconut triangle, a lush and rustic environment where a simple way of life still prevails, pollution is minimal and organic farming has been a way of life for generations.

This lifestyle still continues and we ensure that it stays uninterrupted. Though our production facilities are some of the most modern in the country, our organic cultivation involves traditional farming methods -utilizing optimal natural inputs including cow dung, compost heaps, rice straw etc., allowing for amiable and successful cultivation.

The growing demand for our loved coconuts from the world requires us to source our requirements through both our own plantations and also through certified organic farming networks, where the necessary knowledge and training is farmer families with the objective of helping them gain knowledge needed to develop sustainable agriculture and diversified income sources through organic farming.

Our state of the art factories pay every detail to producing the finest quality coconut products while our food technologist constantly innovate new additions to our range.
Our Love For Nature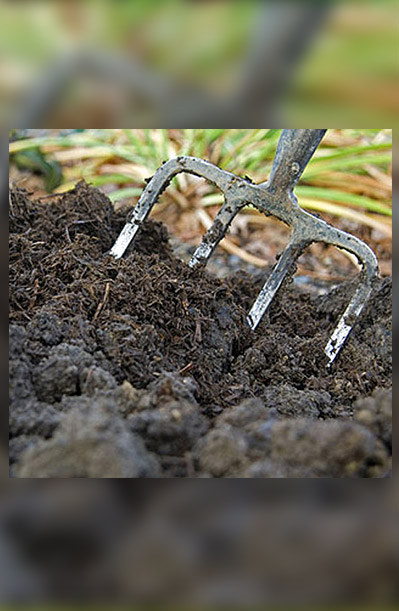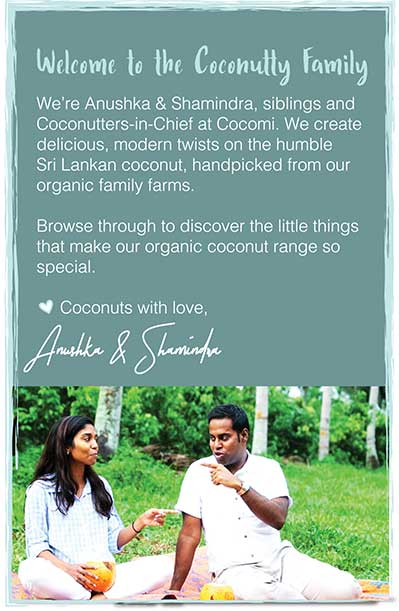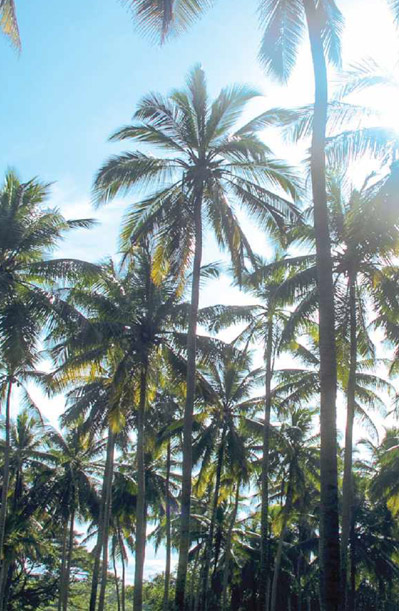 Our philosophy in preserving and sustaining our surroundings is an utmost priority, Mother Nature is the core of our organic products and it's our turn to take care of her in whatever ways possible.

It's well understood that in today's world we are destroying more than what we can build, deforestation and pollution is taking a toll on the delicate bio diversity surrounding us, the life which supports us. Though we are caught in this vicious cycle we ensure that we are not part of this unwanted destruction.

Our plantations are equipped with some of the irrigation methods Sri Lankans Kings used in ancient times; which is a construction of soil dams across streams at different elevations with overflows, thus a large capacity of rainwater is harvested in water reservoirs. Rainwater collected in reservoirs at different elevation along the stream leads to uplift the ground water table which in turn has benefited coconut production. The ponds are used effectively as ideal water sources for irrigation during dry season and also serve as watering holes to different small animals which live in the plantations.

Our factories require a vast amount of steam for production, furnace oil is the easiest but polluting option, yet nature always had the answer and we listened. Our plantations generate tonnes of coconut shells and we put to use this natural energy source by installing coconut shell boilers which now generates the total steam required to operate the entire plant. Furthermore all waste water is channeled back to watering the plants surrounding the factory premises.
FAQ

Where are all the Cocomi products manufactured?
All our products are manufactured by us only. From the farm to the finished products, we monitor everything- no out sourcing, no agents and no middlemen. Everything is under our purview and control thus ensuring the best always.

What is special about Cocomi Coconut Water?
First of all Coconut water itself is nature's wonder product- already filled with goodness for the human body. We ensured that's it's even better!. Ours is 100% organic and from our own farms. Cocomi Coconut water is produced within three hours of harvesting, thus ensuring that the purity and freshness is maintained throughout.
What do you mean by hand harvested?
Just the way fine wine is appreciated we treat our coconuts with love. Our experienced coconut pluckers know which tree and which bunch has the best nut for picking through years of experience and skill. The pluckers carefully extract the nut and in turn our quality supervisors personally go through the selection and approve the best to move forward for production.

What is the Virgin Coconut oil manufacturing process?
Our Virgin Coconut oil is manufactured using cold pressed expeller method that is dehydrating the coconut at medium heat temperature, and then the oil is carefully pressed and filtered. Plus we also ensure that the glass bottle lug caps conform to food use.

What is Cocomi Coconut Milk Drink? Can it be used for cooking as well?
Our Organic Coconut milk beverage is ideal for the vegan, lactose intolerant or for those who just don't enjoy the taste of dairy or soy milk. Our Coconut milk is a viable plant based alternative that contains no lactose and has a pleasant, creamy texture. The Coconut Milk Drink is perfect for your morning cereals, tea, coffee, smoothies, health shakes or just as it is!. We do not recommend the Coconut Milk Drink for cooking but certainly our delicious culinary coconut milk for your recipes.

Is there a difference between coconut oil and coconut butter?
Yes, there is definitely a difference between the two. Think peanut butter vs peanut oil. One is thick and smooth while the other is liquid( at room temperature). Coconut butter includes the meat of the coconut while coconut oil does not.

How do I melt hardened coconut butter?
Depending on the climate it can be smooth, liquid, rock hard or even crumbly. It also burns very quickly. A few options: You can preheat the oven to 350 F and place the coconut butter inside. Take it out after five minutes, or if you need a small amount you can place it on a candle warmer or immerse the bottle in hot water for few minutes.

What is Coconut flour? How is it different from grain flour?
Coconut flour is dried, defatted and ground coconut meat. It is fresh and organic, with a wheat flour consistency. Coconut flour is low in carbohydrates and boasts a lower "net" carb amount than other flours, including soy flour. Net carbs are the digestible carbohydrates in the flour. The flour is gluten- free, hypoallergenic and a good source of protein and fiber. Compared with wheat flour, which has a 27 percent fiber content, coconut flour has a fiber content of 61 percent. It is a better choice for diabetics and those with celiac disease. Replacing 15 percent to 25 percent of the flour in baking recipes with coconut flour can usually be done without changing the outcome. Some recipes still work if the entire flour amount is substituted with coconut flour.
Contact Us
Renuka House
No 69, Sri Jinaratna Road,
Colombo 02,
Sri Lanka.